Are you giving your prospects and team a good reputation to live up to?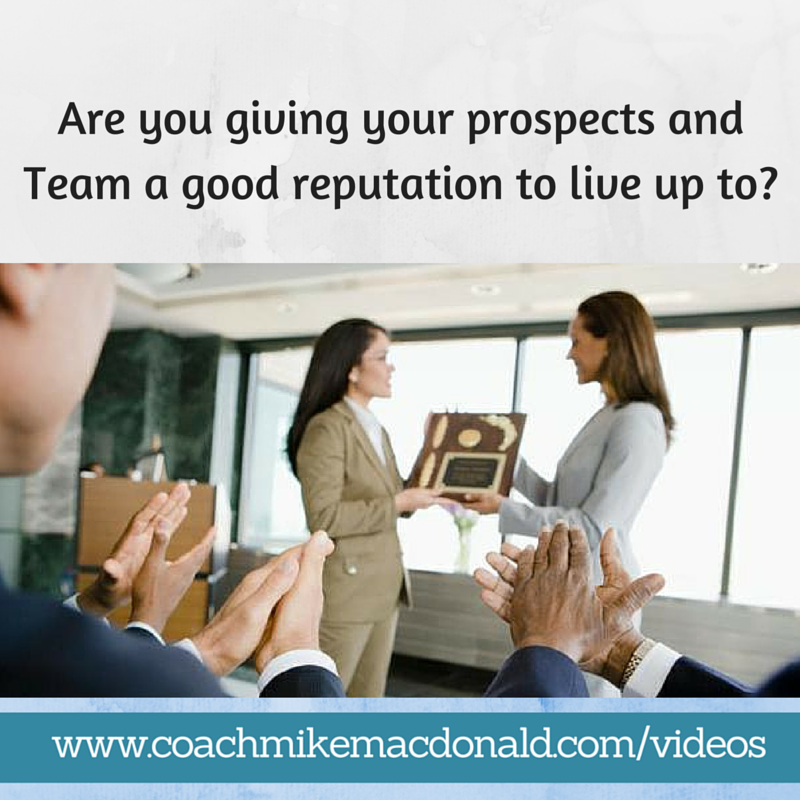 Giving a good reputation for someone to aspire to will go a long way.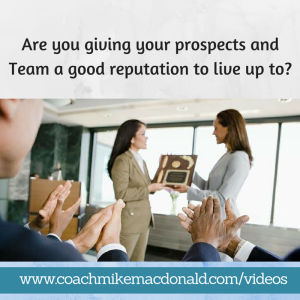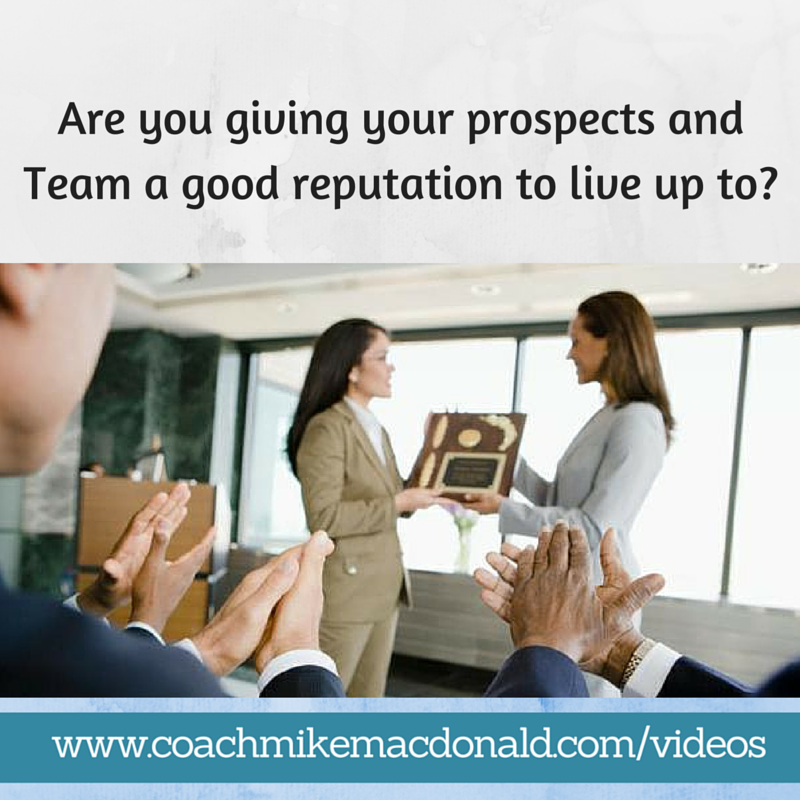 Often times you may have a team member who is under performing or is giving excuses for results or for taking some sort of action in the business. One way to overcome this and help them reach their full potential is to give them a good reputation to live up to. For example you may have someone in your team who is complaining that they don't have the money to go to a company event or to plug into personal development. If you give them a good reputation such as saying something to the effect of "I know leaders and top performers always invest in themselves and attend the events, and despite the obstacles those leaders found a way to make it happen". This would give your team member the aspiration to be a leader and top performer and if they truly are the leader they say they are they will figure out a way to make it happen. So giving them a reputation of a leader and planting that seed can help them get into action and start taking the steps they need to in order to succeed.
You can also give your prospects a good reputation to live up to, to walk them through the process
Sometimes you encounter a person that might be a little flaky or maybe you just want to make sure that you will have a prospect show up to an appointment. This is a great time to give your prospect a reputation to live up to, in order to make sure they follow along with the inviting process. For example lets say you are talking to a friend and you are inviting them to meet you for coffee. You could say something to the effect of "Bob I have always looked up to you and seen you as a person of your word and I'm working on a project and I would really appreciate your feedback on it. Can I count on you for 30 minutes of your time to grab coffee and get your opinion on what I have going on?" In this scenario you are giving Bob a reputation of a person of their word and that if he agrees to meet you we will be there. Another example similar to this is giving your prospect a good reputation when it comes to how they handle themselves. "Sue you always struck me as the type of person who was sharp and outgoing and stood out as a leader to me, I don't know if what I'm working on would be a fit for you or not, but would you at all be open to a side project if it didn't interfere with your current work? The company I work with is expanding and they are looking for someone business minded and that could step up into leadership and I thought of you." in this scenario you are giving that person a reputation of being a leader and they wouldn't want to let down that image and say "well to tell you the truth I'm not a leader" If they aren't open that's one thing, however most people will respond positively in this situation. To learn more effective ways of inviting for your business on top of giving people a good reputation be sure to check out my free training on the 14 Proven Keys To Inviting here!
Did This Blog Help You? If so, I would greatly appreciate if you could comment below and share on Facebook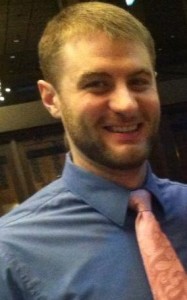 Facebook: facebook.com/coachmikemacdonald
Email: mike@coachmikemacdonald.com
Considering Starting a Home Business? Check out my Work With Mike Section – "I help coachable and teachable professionals become Financially Free and Live Full Time!  Helping you create a better tomorrow through a better you!"
If you enjoyed this post, Are you giving your prospects and team a good reputation to live up to? , please retweet and comment below.