If you aren't using icebreakers you probably aren't making sales
Using icebreakers are key to making sales and building rapport while prospecting.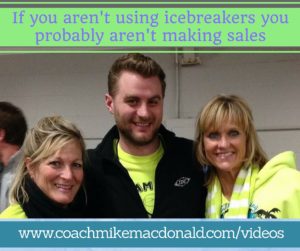 Without using icebreakers you are going to lack the rapport to close the deal
One thing I know I struggled with in the past is focusing on building rapport first. When you are having a conversation with someone you need to build rapport first before moving into the sales process. As we improve your prospecting and recruiting skills sometimes we forget this step, but you still need them.
You want to think of your business like a numbers game and not be addicted to the outcome, but when you treat people like numbers it doesn't work too well. This is why it is important to use icebreakers and build some rapport during your sales and recruiting process.
Don't go right in for the kill in your marketing use icebreakers first
If you haven't had it happen yet you will, but a lot of people will pitch you instantly online. This is a crucial mistake that if you are doing it you should stop. For example if you asked someone what they did and they said "I'm with the number one, most amazing health and wellness company ever. We have the greatest product of all time and you should take it hands down. Go to xyzhealthy.com".
Don't just throw your sales page in your prospects face. Take a little time to get to know them and see if you can find out their needs and wants and how you can help them first.
It really doesn't take that much more time to do this and you will get much better results. It may only be a few sentences back and forth before you ask them to review some information or invite them to a presentation.  However these few statements can make all the difference in your business.
If you want to learn the system and strategy I've been using for years for recruiting and developing rapport with prospects instantly, be sure to check out my F.O.R.M. Recruiting Machine Blueprint training here!
——————————————————————————————————
I would realistically look at building a successful network marketing business as a 3-5 year project to build a successful 10k a month income. Some will get there faster, yet the majority of people will take at least 3 years to be able to make that happen.  This means you will need to do "COLD MARKET RECRUITING" in addition to Warm Market Recruiting, AND you will need a high volume lead generating system or you won't make it very far. Network Marketing is a numbers game, and without the Numbers and Leads you have no business. If you don't already have a High Volume Lead Generating System for Your Business….
CLICK HERE FOR YOUR HIGH VOLUME NETWORK MARKETING LEAD GENERATION SYSTEM 
Did This Blog Help You? If so, I would greatly appreciate if you could comment below and share on Facebook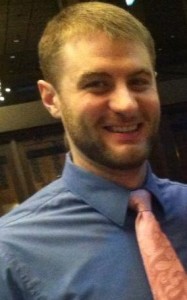 Facebook: facebook.com/coachmikemacdonald
Email: mike@coachmikemacdonald.com
Phone: (612) 568-2818
Considering Starting a Home Business? Check out my Work With Mike Section – "I help coachable and teachable professionals become Financially Free and Live Full Time!  Helping you create a better tomorrow through a better you!"
P.S. If you don't have Leads it is because you don't have a Marketing System. This is the Attraction Marketing System that I First Learned From and Still works Today – Click Here For Instant Access! 
If you enjoyed this post, If you aren't using icebreakers you probably aren't making sales, please retweet and comment below.