Proven way how to create momentum in network marketing: BAM FAM
Creating momentum in network marketing can be achieved when you focus on BAM FAM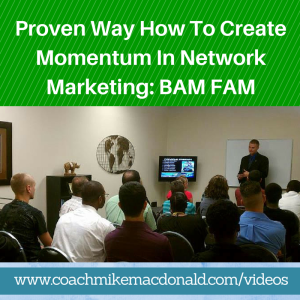 What is BAM FAM? It's the concept of booking a meeting from a meeting. Creating momentum and how to create momentum in network marketing has everything to do with keeping your calendar full. Initially it is up to you to start creating momentum through your own personal effort, however often times people struggle because once they get a new sign up they don't ever BAM FAM. When you are 100% responsible for filling your calendar on your own it can be tough, but when your leverage your new team member's warm market. When you dig through white hot market and focus on BAM FAM with every new team member your on your way to creating momentum in network marketing.
How to create momentum in your existing group through BAM FAM
Now sometimes you will have your team momentum slow down or perhaps you have a weekly presentation and you didn't have any new members get started. Well instead of doing a basic training after the presentation change it to a calling party. That way you can focus on BAM FAM with your existing members and keep your momentum going. You can fill up your calendar again and continue creating momentum. Don't fall into the management trap and only rely on your people alone and continue to personally bring people in as well. New people are the lifeblood of your organization and they are the best way for creating momentum in network marketing and you can simply start the BAM FAM process with your new starts. You should also be creating a culture of BAM FAM in your teams so they will start creating momentum without you as well.
Are you on Periscope? I have been doing a few extra trainings on there as well. If you would like to Follow Me on Periscope and W

atch My Broadcasts Live Here 

https://www.periscope.tv/mikemacdirect
I would realistically look at building a successful network marketing business as a 3-5 year project to build a successful 10k a month income. Sure, some will get there faster, but the majority of people will take at least 3 years to be able to make that happen.  This means you will need to do "COLD MARKET RECRUITING" in addition to Warm Market Recruiting, AND you will need a high volume lead generating system or you won't make it very far. Network Marketing is a numbers game, and without the Numbers and Leads you have no business. If you don't already have a High Volume Lead Generating System for your business….
CLICK HERE FOR YOUR HIGH VOLUME NETWORK MARKETING LEAD GENERATION SYSTEM 
Did This Blog Help You? If so, I would greatly appreciate if you could comment below and share on Facebook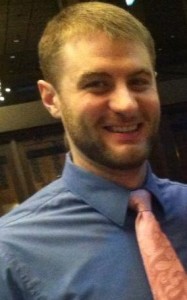 Email: mike@coachmikemacdonald.com
"I help people become Financially Free and Live Full Time!  Helping you create a better tomorrow through a better you!"
If you value from this post, Proven way how to create momentum in network marketing: BAM FAM, retweet and comment below 
PS: If Your Upline Does Not Have a Step-By-Step Blueprint For ONLINE Marketing Success, Check This Out (Unless You Already Have Too Many Leads) – Check out this Free Webinar!