Easy Team Building Tips: Are you using the rule of 10 times?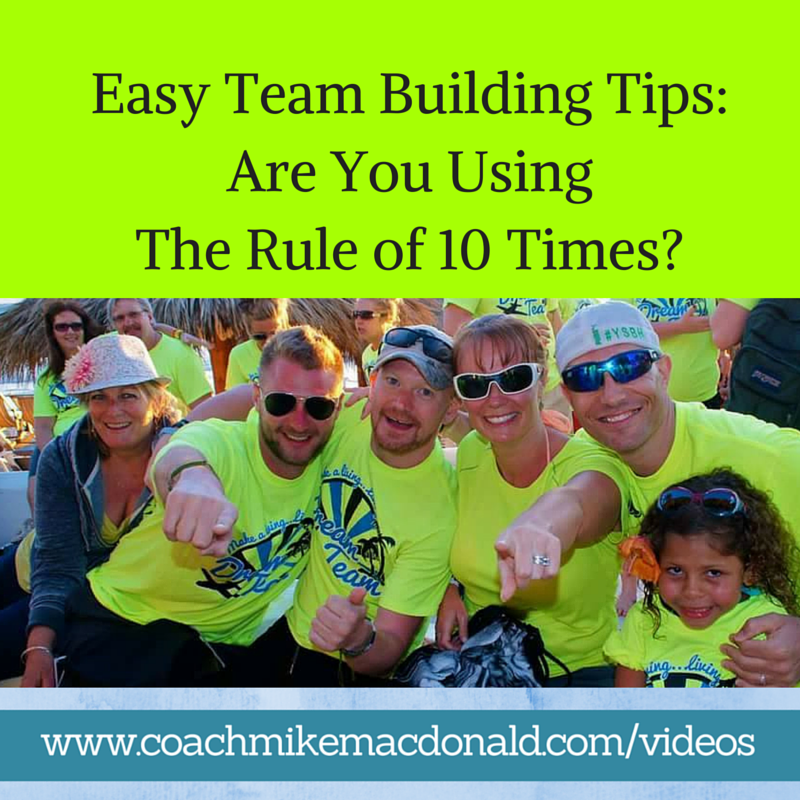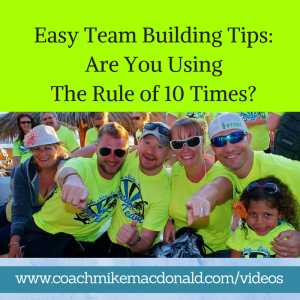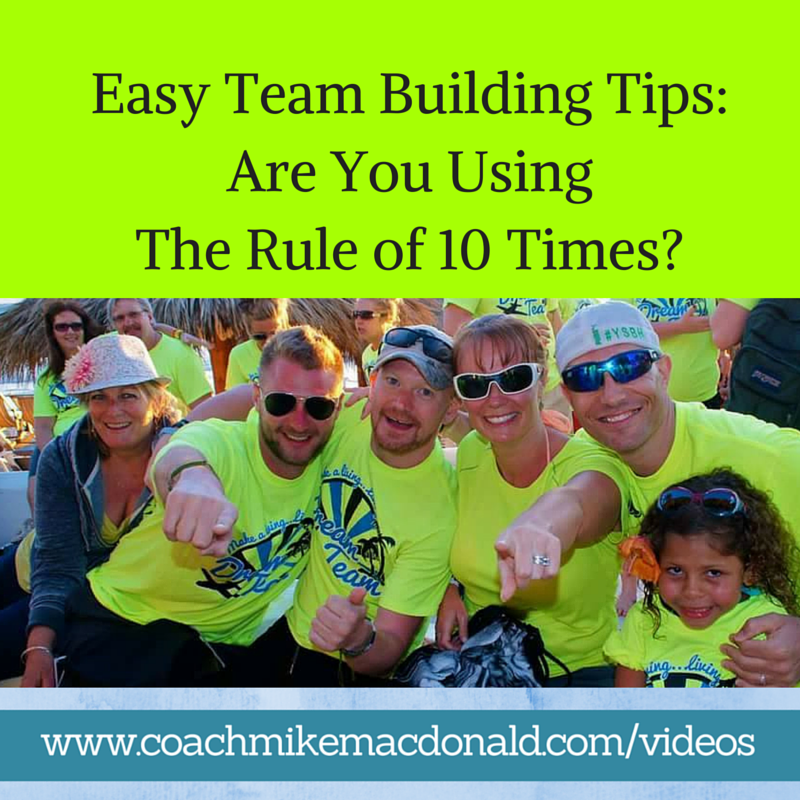 One of the essential Team Building Tips you should implement is that of asking probing questions.
Often times your team members may have an issue or something they are struggling with and most of the time we incorrectly assume it's a problem of not enough action or not enough motivation. Someone is really only willing to get an undesired result so many times before they quit trying and very few will keep going motivated in the face of defeat. Your job as the leader and coach while team building is to find out and troubleshoot when people have issues and find out how to help them. The sooner you can help your team member solve their problem or struggle the better because if you don't their energy to take action eventually depletes and they end up quitting. The sad part is, is that they most of the time never say why, or even tell you they want to quit, they just disappear.
Team building tips

: how to avoid as many quitters in your team – The rule of 10 times
A great thing that you can teach your new team members is the concept of the rule of 10 times. You may have had reps that are excited right away then fizzle out after a few weeks, this happens, but you can lessen how much it does by teaching them this rule. Basically it's the idea that if they do something 10 times and they don't get the desired result they are looking for they need to reach out and seek help. They might be taking the right action, but saying the wrong things, or saying the right things, but no using an expert, etc. there could be many reasons why they aren't getting the desired results but if they don't seek out help to find out how they can improve, they lose excitement and momentum and often times quit. This will greatly improve their learning curve and help them get through their learning curve, and it will also let you off the hook from trying to guess when they need help or why they aren't getting results.
I would realistically look at building a successful network marketing business as a 3-5 year project to build a successful 10k a month income. Sure, some will get there faster, but the majority of people will take at least 3 years to be able to make that happen.  This means you will need to do "COLD MARKET RECRUITING" in addition to Warm Market Recruiting, AND you will need a high volume lead generating system or you won't make it very far. Network Marketing is a numbers game, and without the Numbers and Leads you have no business. If you don't already have a High Volume Lead Generating System for your business….
CLICK HERE FOR YOUR HIGH VOLUME NETWORK MARKETING LEAD GENERATION SYSTEM 
Did This Blog Help You? If so, I would greatly appreciate if you could comment below and share on Facebook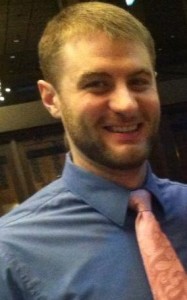 Facebook: facebook.com/coachmikemacdonald
Email: mike@coachmikemacdonald.com
Considering Starting a Home Business? Check out my Work With Mike Section – "I help coachable and teachable professionals become Financially Free and Live Full Time!  Helping you create a better tomorrow through a better you!"
PS: If Your Upline Does Not Have a Step-By-Step Blueprint For ONLINE Marketing Success, Check This Out (Unless You Already Have Too Many Leads) – Check out this Free Webinar!
If you enjoyed this post, Easy Team Building Tips: Are you using the rule of 10 times?, please retweet and comment below.